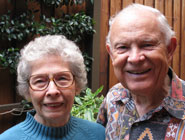 "We voted for the library bond measure in 1956 and will vote for the library again in 2008."
- Rachel & Elton Bell
Palo Alto residents for 57 years

About the Children's Library:
"Our girls love to go to the library. For the last couple of years, we've been going to the Los Altos library because it had a bigger collection of books and we could almost always find what we want. We recently went to Children's Library and it was such an inviting atmosphere for reading that now we often spend Sunday afternoons reading in the Children's Library."
- Mala Nayak

"We have noticed a steadily increasing demand from our members for additional meeting space and access to computer research among our teens. Besides addressing issues, this proposal will give our community exactly what we need and will make our library system something to really be proud of!"
- Scott Glissmeyer
Exec. Dir., P.A. YMCA

"I voted against Measure D, despite being an ardent library proponent with two young children. I felt strongly that using up valuable park space for Mitchell Park Library was a mistake and the plan didn't fix a number of the issues I had with the library like the crazy offset intersection on Middlefield. The whole thing felt very rushed.
This time around, things could not be more different. I've been very impressed by the consultative process the city followed and the plans that resulted from it. The new library would fit well into the neighborhood and improve an already wonderful park. It would be more than just a place to house more books; I could see it becoming a center of community life for young and old. Let's do this!"
- Elizabeth Alexis

"When we first came to the library in Palo Alto, we were shocked at the facilities and lack of resources. We thought that this community, with Stanford and Silicon Valley, would have a library worthy of the values, traditions, and aspirations of our progressive community. Having come from San Francisco four years ago, we were surprised and disappointed that Palo Alto libraries could not compare to the newly built libraries in San Francisco. We specifically came to Palo Alto for its value on family and education and now is the perfect time to demonstrate our commitment to lifelong learning for all Palo Altans."
- Leslyn Leong
Palo Alto libraries must be improved to meet our expectations, and residents should accept nothing less.
- Tom Wyman
An up-to-date, aesthetically pleasing, accessible library system is an essential element in sustaining the high quality of life that made us choose Palo Alto.
- Suzanne Redfern-West
Libraries are an essential community service, and Palo Alto libraries are long overdue for an upgrade. I opposed the previous plan, but I like the Measure N proposal.
- Christopher Linn
I'm looking forward to seeing more books on library shelves and the new community center will add a lot to community life in Palo Alto.
- Daria Walsh
We want to do this for the benefit of all our grandchildren and all our citizens.
- Nancy And Norman Rossen
I support the library bond measure because the usability of our libraries is hampered by the outdated buildings and lack of space.
- Lisette Narragon
The facilities are 50 years old. It is time to reinvest, as our predecessors did in the 50's, for the generations who will follow.
- Martha Schmidt
I support the library measure because it benefits all of us -- adults, seniors and kids to have this facility be as current and vital a resource as it can be to support the growing needs of Palo Alto.
- Carol Cleary-Schultz
I support the library bond measure because it is important to our children and the community as a whole.
- Margie And Tim Cain
Good libraries are essetial for an educated community. As a long time History/Government teacher in Palo Alto, the libraries were important resources for research assignments I gave. The links between school and community libraries enable students to have access to more sources of information which they can actually have in their hands.. It is important that students look at books to assess the quality of information, rather than merely accepting on line sources which may be of dubious quality. Palo Alto's libraries shuld be a source of great pride.
- Suzan Stewart
I endorse this campaign because we are heavy library users, from books to stories on tape and dvds. Nearly every week our family bikes to the library, a habit which we hope sticks into our children's teenage years. Here is to getting the Mitchell Park Library ready for them!
- Kirsten R. Daehler
It's time to get it done, folks!
- Beverly & Don Kobrin
The library is a great source of knowledge and the primary place for the community to gather and to enjoy the written word. We've got great librarians, great books and need great libraries to house them!
- James & Wendy Cook
I want to endorse the Library Bond, because a vibrant community needs libraries that can support community needs.
- Melissa Baten Caswell
Investing in our libraries is an investment in the essence and long-term value of our community. Run-down libraries are not in keeping with the high value we place on continued learning, freedom of ideas and community.
- Karen Kang
Having grown up in Palo Alto and having spent many hours of my youth at the Main Library on Newell. I believe it is important for students to have a safe, clean, well maintained public facility to go to. I visited Mitchell Park Library Sep. 5, 2008 with my daughter and the inside temperature was 89 degrees F!!! It would drift to 90 and I was told if it held at 90 for 5 minutes the library would be vacated. That alone speaks for the need for this bond measure.
- Elizabeth Doi Ludwig
In Palo Alto, the libraries are the entertainers of our young, a safe haven for our middle schoolers, a home-away-from-home for our seniors, the community wells and teachers par excellence. They badly need upgrades.
- Smita Joshi
I support the libraries bond measure because I have been using the library facilities for over 38 years and it is time to bring them into the 21st century. Our children children's will thank us.
- Joel Davidson
I support the library bond measure because learning is an important life-long Palo Alto tradition.
- Eric Schuur
I support the Library bond measure
- Kriss Deiglmeier
You can use my name. Kate Godfrey
- Kate Godfrey
I love libraries and have used them a lot in the 3 generations I've been on this planet. There are tremendous books I've read only because I could borrow them from a local library.
- Locke McCorkle
Libraries are a never ending source of enrichment for our children and the community. We support building better libraries for future generations to come.
- Kathryn And Mike Weller
My daughters (7 and 11)read so much more because of the Mitchell Park library. My youngest first learned to write her name so she could apply for her own library card. They always look forward to our frequent library visits.
- Marilyn Keller
My kids and I spend so much time at the Mitchell Park library and love how convenient it is to our home and schools, but I am often surprised and frustrated by how few collections are available for kids. Their school libraries are better stocked, and this needs to change! We look forward to using the updated facilities and materials the new library will be able to offer.
- Nancy Smith
Libraries are the cornerstone of literacy, democracy and community. We need to each pay our fair share to make sure that Palo Alto has the best, modern, accessible and delightful libraries possible.
- Marianna Grossman Keller
I support the bond because we need better libraries
- Samir Tuma
I have just moved to Palo Alto from Menlo Park which has an outstanding community library with lots of space for study and great air conditioning and fast interlibrary loans. I continue to use the Menlo Park Library because of this, but would like to take advantage of libraries closer to home.
- Lauren John
The teen programs at Mitchell Park are really well attended. With new expanded facilites, these programs will be even more attractive to our young teens!
- Penelope Kerhin Livingston
When I moved with my young family to this community 38 years ago I was impressed by the vitality of Palo Alto's library system. The time is now to improve our library facilities to a standard that once again reflects our community's commitment to quality programs for all who live here.
- Gayle Nathe
I support the library bond. Our libraries need to be updated. I am the wife of endorser Scott Schroeder so you can make us one combined listing.
- Kathy Schroeder
I support the library because it's a community resource.
- Don Chin
I support the library bond measure because it's absolutely needed! We use the libraries a lot as our entire family love to read, but the facilities just are not up to the standards of the 21th century, especially being that Palo Alto is the center of technology.
- Yulin Lee
I endorse the library bond measure in order to bring our 50-year-old libraries into this century and up to par with libraries in neighboring cities/communities.
- Sandra Lonnquist
Palo Alto residents deserve up-to-date libraries.
- Fred & Barb Mitchell
Libraries give back tenfold what the community puts into them.
- Melissa & Paul Hopkins
Anyone who uses our libraries can see that they need updating. The library bond will make a big difference in providing much needed renovations to some of our best loved and most used libraries.
- Elaine Hahn
We endorse efforts to improve libraries both in north and south palo alto, having lived in both...
- Enoch Choi, MD
I suppport the library bond measure because I want this generation to dedicate a civic venue to learning and community.
- Evan Lurie
As a past member of the board of the Friends of the Palo Alto Library, I have been a supporter of improving our library system, and the buildings in which it operates for many years. Our community values our libraries and the variety of services they provide... in addition to the books. Let's rally as community and pass this bond to bring our libraries into the 21st century!
- Paula Sandas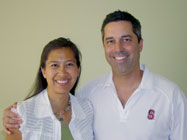 About the Main Library:
"Our family loves the Palo Alto libraries. It is a welcoming environment that is conducive to learning, growth, and discovery. May and I often go to the library together on our "date nights." And our children love the libraries too. Our libraries are woven into the fabric of a strong community. That's why we support building a better future for Palo Alto libraries."
- May & John Herr

"I was not in favor of Measure D in 2002, because it seemed like we were trying to do too much. Six years later, our children are still using a cramped, noisy library. It's time for us to seize this opportunity to fix our libraries."
- Boris Foelsch

"We lived in Santa Clara for 12 years and really appreciated their modern library with meeting rooms, many nice reading areas with comfy seats, places for kids to learn and study together, lots of computers, and a coffee bar. When we moved back to Palo Alto recently, I found our libraries even more cramped, hard to get around, dark, and dreary. That's why I plan to vote yes on the library bond in November to create an uplifting community learning place for our city."
- Brian Jakubowski

"If I lost my purse, I'd look first for my credit card, but my library card would be a close second. I won't leave home without it!"
- Lucy Filppu
Parent and Grad Student

"I'm deaf and I work at Google and I wouldn't be there without libraries. It's hard to explain to someone who is not deaf how important reading is and you can't read without libraries."
- Ken Harrenstien
We need a better library system!
- Zara Shipp Howard
When we moved here 41 years ago, we found the library facilities amazing (for the time!). Now we need to upgrade our libraries to keep Palo Alto the special place it is!
- Alice Stiebel
We support the library measure because we have been able to enrich our lives with books, music and videos from the library for years. Our child is able to attend wonderful, educational events at the library. The staff is top-notch. It seems like a small price to pay for all we get from our library.
- Michael And Dana Nelson
I support the library bond measure because we need better libraries
- Elaine Saussotte
Palo Alto should be ashamed to have the smallest number of different books in the area. I have to go to Redwood City, Menlo Park, etc. to get the book I want. Edith
- Edith Yanklowitz
I support the bond measure for libraries because as a Palo Alto native, I feel that so many of us have benefitted so much from the many good decisions that our predecessors made regarding infrastructure and encouraging progressive thinking. It is now our generation's turn to stand up and do the right thing for ourselves and future generations.
- Linda Stebbins Jensen
This is exactly what Palo Alto needs!
- Dahna Pasternak
I endorse the bond campaign because I feel strongly about having better libraries in Palo Alto.
- Jamie Rapperport
Our libraries represent who we are as a literate people. Without them, we have diminished our culture.
- Geri Spieler
Our family loves the libraries. As the kids get older, they're using the libraries more. It's a place for them to relax and dive into a novel. Soon, they'll also need a library with enough resources to do research and projects.
- Jennifer & Gene Seto
we need better libraries
- Jeanne Osiecki
The library is such a big part of our family's life. We love the location and the joy of seeing our neighbors and friends there. Our love of reading and interest in the community motivates me to endorse this campaign.
- Ruth-Anne Siegel
I support the library measure because I value librabries as a tremendous community recource for all ages.
- Hayley Gans
This plan and investment in our community libraries is both exciting and reasonable. It will benefit all generations and add immeasurably to the quality of life here that is so important to all of us.
- Shelley Hebert
I have loved and enjoyed libraries all my life. I feel very strongly on the value that libraries bring to our community. Strong libraries help make for strong communities. Let's get ours into the 21st century! (Andy comment)
- Andy & Liz Coe
I support the library bond measure because it is the right thing to do.
- Liz Cowie
After 25 years in Palo Alto, I am now a resident of Calistoga who still supports and appreciates Palo Alto's libraries!
- Shelby Valentine
We support the library bond measure because excellent libraries allow all community members to experience the joy of reading.
- Abbie & Terry Sanger
I support the Library bond in Palo Alto because our libraries need renovation and updated equipment, materials and services. I am impressed by other communities fresh new libraries and how useful and well equiped they are. A modern library brings our community and the members that it serves into a new age of communication and information--this is a deep passion of the Palo Alto citizens.
- Nancy Shepherd
I support the library bond measure because I am a regular user of the Mitchell Park library, and I see how crowded it is.
- Ken & Sue Allen
I'm embarrassed that our city, so steeped in a love of learning, has the crappiest public libraries in the area. It's time for Palo Alto to step up.
- Larry Cheng
Free libraries have been a pillar of American democracy since the founding; an informed citizenry is the best protection against tyranny. And a literate citizenry is a necessary condition of civilization. There is nothing more basic to our lives than libraries.
- Charles Junkerman
Our libraries and the facilities they provide are the heartblood of our community. And our need is accelerating.
I endorse the library campaign because our libraries are the centers of our community and are essential to our community's vitality.
- Deborah Rose
For the past 30+ years, our family has extensively used the Palo Alto Public Library. Our use has ranged from weekly visits to the Children's Library, lunch-time jaunts to College Terrace, post-shopping or kid-schlepping recovery visits to Mitchell Park and Downtown, and now almost daily walks to Main. For exercise and intellectual stimulation the library can't be beat!
- John & Nancy Baum
Palo Alto has been living on its legacy; it is time again to invest in our future.
- Claude Ezran
Palo Alto libraries are critically important to the quality of life of our community. My sons and I go to the library weekly during the school year and check out tons of books. Books are a joy for my boys and much better company in the car than a Gameboy!
- Grace Mah
A great library system is never just books; it's a of lifelong learning and community. That's why we give this bond our wholehearted support.
- Julie Williams & Dan Farley
I support the measure because local libraries are essential to the educational process by supporting the curricula, the teach information literacy, and foster critical thinking skills. They create an educated community by providing opportunities for self-education, life-long learning, non-partisan access to information, and self-improvement.
- Claudia Davis
Mitchell park library and community center desperately need modernization and expansion.
- Alice & Herb Fischgrund
Better libraries equal better communities.
- Jennifer Mutz
This is the right time to make Palo Alto's libraries work. Our family is a weekly, regular user of the library, and we see how crowded and inadequate it is for the community it now serves.
- Andrew Mutz
I endorse upgrading our libraries.
- Cheryl Lathrop
Endorse!
- Peter Drekmeier
I support the bond campaign because it includes necessary and reasonable improvements to our libraries.
- Katharine Miller
We're a well-educated community of life-long learners. A community that values education values its libraries. This new improvement plan corrects problems in the earlier Measure D plan. All Palo Alto residents -- our children, seniors and families -- will benefit. Vote YES this November!
- Karen White
I support the library bond measure because every member of my family uses and loves the library!
- Sharon Samson
I want better libraries for Palo Alto!
- Tom Kuhnle
As an early childhood educator I have seen first hand how books change the lives of children opening their initial interests into a world of discovery. The more books children, families and teachers have access to; the more learning and discovery can take place early on.
- Tanya Swezey Stabinsky
Strong libraries make strong communities!
- Meg Waite Clayton
We support the library campaign because Palo Alto needs and deserves these beautiful improvements.
- Bonnie Packer & Bob Raymakers
Especially with the rapid growth in housing in south Palo Alto, the expansion of the Mitchell Park Library will ease the current overcrowding and increase number and variety of materials. The potential that Cubberly Community Center will become a school again, as school enrollment rises, means that rebuilding of the Mitchell Park Community Center is warranted.
- Arthur Keller
My family visits many libraries in other communities in the USA and can see the potential that our "overly loved" Palo Alto libraries can become. I will vote "yes" for libraries and if my kids were of voting age, they would too.
- Lynn Drake